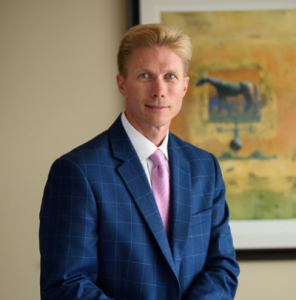 Were you injured in Lexington while riding an electric scooter made by Lime, Bird, Spin, or another manufacturer? If so, you may be entitled to compensation. At Minner Vines Moncus Injury Lawyers, we help e-scooter accident victims the full and fair compensation they deserve for their injuries. Our attorneys bring decades of experience, knowledge, and skills to each personal injury case, and we'll bring it to yours, too.
Electric scooters, or e-scooters, made by the companies Lime, Bird, and Spin, can be found on roads throughout Lexington and other cities in Kentucky. This new mode of transportation is quickly growing in popularity due to its affordability and convenience. Users can unlock the dockless e-scooter using an app on their smartphone and use them for as long as they need to.
Unfortunately, with the rise of e-scooters has been a surge in injuries. The Centers for Disease Control and Prevention (CDC) found in a 2019 study that there has been an increase in emergency room visits for fractures, dislocations, and head injuries due to e-scooter accidents. The CDC also found that head trauma topped the list of accident-related incidents involving e-scooters at 45%.
If you have been injured, call the Lexington personal injury attorneys of Minner Vines Moncus Injury Lawyers at (859) 550-2900 today to schedule a free consultation without obligation, so we can discuss your legal options.
How Can an Electric Scooter Accident Attorney at Help Me?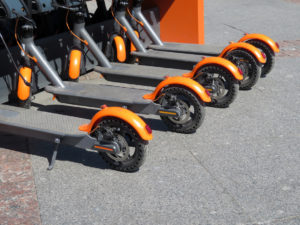 If an e-scooter accident lawyer takes on your case, they are committing to serve you throughout the entire process. An attorney only represents you and your interests. This is in stark contrast to the insurance companies, who will want to settle your case for the lowest amount possible. Furthermore, personal injury attorneys work on a contingency fee basis, meaning they don't get paid unless you do. This arrangement gives the attorney the utmost incentive to make sure that you get the maximum financial compensation available for your e-scooter injuries.
Unlike some personal injury cases, an e-scooter accident claim may involve multiple insurance companies: the victim's, the motor vehicle driver's, and the e-scooter company's (that of Lime, Bird, or Spin). An experienced e-scooter accident lawyer can help you determine which entities will be responsible for your claim, and they will make sure that the insurer doesn't try to take advantage of you with a lowball settlement offer. Allow an attorney to take care of all legal heavy lifting for you so you can focus on what's most important: your health and recovery.
E-Scooter Accident Cases We Handle 
At Minner Vines Moncus Injury Lawyers, we handle any e-scooter accident where the rider was injured due to the negligence of another party. However, in general, there are three main types of e-scooter accident cases we handle:
Scooter riders injured due to a faulty or defective scooter
Scooter riders injured due to the negligence of others, be it a motorist, road hazard, or a pedestrian
Pedestrians struck by reckless scooter riders
In the case of defective e-scooters, accidents may occur due to malfunctioning brakes, tires, or electrical systems. Much like bicyclists and motorcyclists, scooter riders are less visible and much more exposed than car drivers. There is little protection between the scooter rider and the road in the case of a collision. Also, e-scooter riders tend to be inexperienced since no experience is required to operate one. All you have to do is download the Lime, Bird, or Spin app, enter your credit or debit card number, and you are ready to ride. E-scooters are often strewn on sidewalks, putting other scooter riders in danger. Pedestrians may trip and fall on them.
Common E-Scooter Injuries 
A wide range of injuries can result from e-scooter accidents. Common injuries from Lime, Bird, and Spin e-scooter accidents include:
Broken bones
Sprains and strains
Traumatic brain injuries
Herniated discs
Cuts and bruises
Wrist and arm injuries
Ankle and leg injuries
Back injuries
Facial injuries
Neck injuries
How Our Firm Can Help You
For decades, the award-winning Lexington personal injury lawyers at Minner Vines Moncus have been dedicated to helping clients. That commitment has resulted in more than a billion dollars recovered on behalf of injured Kentuckians. We believe in helping those who were hurt get the justice and compensation they deserve, and we are ready to help you.
If you've been seriously injured in a scooter accident in Lexington, you may be facing a long road to recovery. The Lexington scooter accident attorneys at Minner Vines Moncus Injury Lawyers can help you get there. With decades of experience, our scooter accident lawyers know how to thoroughly investigate your case and help you recover the maximum compensation available for your injuries.
Our Lexington scooter accident lawyers will build a strategy for your success. Past and future medical bills, lost wages, pain, and suffering, and other damages may be available to you and your family. We've handled many types of scooter accidents, and we know how to put together the most persuasive case for you. 
Frequently Asked Questions (FAQs) about E-Scooters
At Minner Vines Moncus Injury Lawyers, we get many questions from clients regarding their e-scooter accidents. Here are a few of the most commonly asked questions:
What types of compensation are available with e-scooter accident claims?
If you have been seriously injured in an e-scooter accident, you may be dealing with costly medical bills, both immediate and ongoing. E-scooter accident victims often have expenses related to emergency department visits and hospital stays during their recovery. They may also be faced with the steep costs of surgeries, rehabilitation, and physical therapy. Those who suffer severe head trauma may be left with permanent disabilities that require 24/7 care for the rest of their lives.
Fortunately, the legal system always you to recover compensation to help pay for these medical expenses and other damages. The financial recoveries for e-scooter accident claims can include compensation for a variety of losses, including but not limited to:
Past and future medical expenses
Past and future lost wages
Permanent disabilities
Property damage
In rare cases, punitive damages may be available. The experienced Lexington e-scooter accident attorneys at Minner Vines Moncus Injury Lawyers will be able to give you an idea of all the types of compensation you are eligible for during your free initial consultation.
What should I do after an e-scooter accident?
If you've been injured in an e-scooter accident, you must take the following steps. When filing a claim seeking compensation for damages, these tips may strengthen your case:
Seek medical attention. Your health and safety should be your No. 1 priority. If you or anyone involved suffered injuries, call emergency responders immediately. Even if you believe your injuries are not severe, it's best to be examined by a doctor.
Get a copy of the police report. A police report can be used as evidence for your claim. The report will state essential details, such as who was at fault for the accident.
Take photos. Photos can be used as evidence to the extent of your injuries and property damage.
Gather contact information. Make sure you get phone numbers and insurance information of all parties involved.
Contact an e-scooter accident attorney. These cases are often complicated. Gathering evidence to build a strong case can be difficult and time-consuming. An attorney can handle all legal matters while you focus on your recovery.
What type of evidence is helpful in scooter accident cases? 
The best evidence for an e-scooter claim will depend on the specifics of that particular accident. In general, evidence that can be useful in e-scooter lawsuits includes:
The scooter involved
Photos and videos of the accident scene
Witness statements
Phone records
Police reports
Medical records
While riding an e-scooter, I hit a pothole and was hurt. Who is liable?
The City of Lexington may be liable for failing to address road hazards that were the direct cause of your injury. Furthermore, the e-scooter company, be it Lime, Bird, or Spin, may be liable if there was a defect in the scooter that made it impossible for you to avoid a pothole.
Experienced Lexington E-Scooter Accident Lawyers
With decades of attorney experience helping injury victims, Minner Vines Moncus Injury Lawyers knows how to pursue justice and compensation for injured Kentuckians. E-scooters are the latest chapter in our storied history of helping people in Lexington. Despite being a new area of personal injury law, our skilled and compassionate lawyers have handled many types of e-scooter accident cases.
If you were hurt in a Lime, Bird, or Spin e-scooter accident in Lexington, our team will be committed to helping you secure the justice and compensation you deserve. Call Minner Vines Moncus Injury Lawyers today at (859) 550-2900 to schedule a free initial consultation.
Our Lexington personal injury law firm also provides:
Lexington, KY Brain Injury Lawyers
Lexington Personal Injury Lawyers