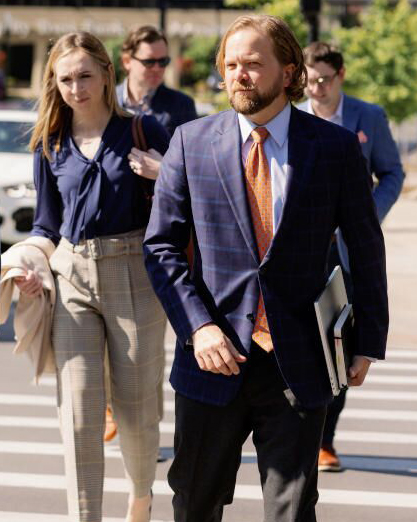 Why Choose Our Lexington Personal Injury Law Firm?
At Minner Vines Moncus Injury Lawyers, we firmly believe that our track record and national reputation for handling personal injury and other complex litigation reveal a distinct pattern of dedication to our clients' best interests. While many law firms' "About Us" pages offer little more than a tribute to their lawyers' collective egos, we want to make it perfectly clear that our trial lawyers can help you with your unique case. The way we see it, by showing you a little bit of what we've done for clients in the past, we're able to demonstrate what we can bring to the table for you.
Minner Vines Moncus Injury Lawyers is committed to helping individuals and families fight for their rights after someone else's negligence caused harm and losses. Our Lexington personal injury lawyers have handled a wide range of cases, including complex litigation involving powerful pharmaceutical companies, and agricultural giants, as also car accident cases, slip and fall, medical malpractice, nursing home abuse, and more. We have successfully fought for and won numerous multi-million dollar jury verdicts and settlements in these very cases. We are ready to see how we can help you.
At the Cutting Edge of Plaintiff's Work
At Minner Vines Moncus Injury Lawyers, we believe that our results speak for themselves. By showing you what we've done for past clients, we can reveal what our team of skilled personal injury attorneys brings to the table. Our recent verdicts and settlements demonstrate a pattern of success, even in an era of slowly dwindling jury trials. In our decades of practice, we have set records time and time again by securing jury verdicts that rank among the top 100 in the nation.
Lawyers at Minner Vines Moncus Injury Lawyers have received numerous awards and recognition that sets us apart:
Recognized by the National Law Journal for achieving one the Top 100 verdicts in America multiple times
Named among America's Leading Litigation Lawyers in the country by Benchmark Litigation®
Recognized by Martindale-Hubbell® as having achieved the top ranking available
Recognized by The Best Lawyers In America®
Recognized by The Best Lawyers in America® as "Lawyer of the Year"
Recognized by Super Lawyers ® Magazine
Named amongst LawDragon's® 500 Leading Lawyers in America
Named amongst LawDragon's® 500 Leading Plaintiff Consumer Lawyers in America
Lectured and taught other lawyers in at least 46 states on litigation skills and advocacy
Been featured on CNBC, CBS, ABC, Fox, Law 360, USA Today, the Courier Journal, the Herald Leader, the Birmingham News, and other media affiliates
Handling Complex Litigation & Settlements in Lexington
RELY ON OUR HISTORY OF SUCCESS
While trial lawyers tend to highlight successful jury verdicts, the fact remains that many personal injury cases settle. At Minner Vines Moncus Injury Lawyers, we treat settlement negotiations with the same care, attention to detail, and fierce representation as courtroom trials. Throughout years of practice, our attorneys have become known for their uncompromising approach to trial, and we find that many defendants settle simply because of our outstanding reputation. We've proudly served everyone from local farmers to whistleblowers to the State Attorneys General, providing strong representation in an array of complex matters.
Choose A Firm That's Dedicated To You
Minner Vines Moncus Injury Lawyers, our clients are our first priority. We've seen the devastating effects that unexpected accidents can have on individuals and their families and we know how difficult and overwhelming the legal process can be for ordinary people.
When you trust your case to the personal injury attorneys at Minner Vines Moncus Injury Lawyers, you'll receive:
Knowledgeable guidance from an experienced team
Aggressive representation in settlement or trial
Answers to your questions and updates on your case
Open, honest communication throughout the process
Personalized legal assistance tailored to your situation
A team of dedicated legal professionals fighting for you
If you were recently injured in an accident or have had a loved one killed by someone else's negligent actions, contact our firm as soon as possible. Our attorneys are ready to help you pursue the fair compensation you and your family are owed. Contact us online today.
Lexington Personal Injury Law Firm Review