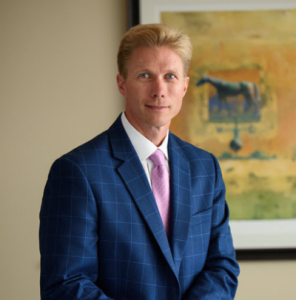 In Kentucky, our older family members are cherished and important members of our family and community, and when they need medical care we can't provide, we turn to skilled nursing homes for help.
Unfortunately, not all nursing home facilities give our loved ones the standard of care they deserve. In fact, some facilities resort to restraining the elderly, rather than caring for them. The World Health Organization estimates 1 in 6 people over the age of 60 years old has experienced some form of abuse in a community setting. They also find that 2 in 3 staff members at nursing home facilities have admitted to committing abuse in the past year.
Your loved one deserves better, and you deserve peace of mind. That's where the attorneys at Minner Vines Moncus Injury Lawyers come in. At Minner Vines Moncus Injury Lawyers, we have experienced Lexington nursing home abuse attorneys ready to fight for the rights of your loved one. If you suspect your loved one is being improperly restrained or abused while in the care of a nursing home, contact or call us immediately at (859) 550-2900. We want to help you make this right.
What Is a Physical Restraint, and How Is It Used in a Nursing Home?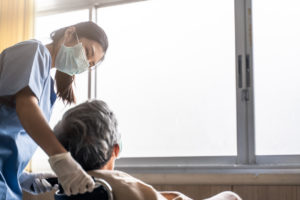 A physical restraint is any type of mechanical or physical device or material that is attached to a person's body as a means of holding them in place, or keeping them or a body part immobile. A restraint is meant to inhibit the freedom of movement a resident has over their own body without being easily removed by the resident themselves.
A restraint may be used in a nursing home setting as a safety measure in some special situations in order to keep an elderly resident from hurting themselves or others. The problem in some nursing homes is that the use of restraints is not properly monitored, and they become a crutch for staff members.
Caregivers may resort to using restraints on residents when they feel overwhelmed by the volume of their work. A home may be understaffed, and restraints may be used to keep residents "under control" or "out of the way" as the staff scrambles to attend to everyone. They may be used by caregivers because they were given poor or improper training by the nursing home who hired them, or perhaps they've been hired with no training at all.
There are a variety of reasons that a nursing home or caregiver may resort to using physical restraints on residents. Unfortunately, most of those reasons are just poor excuses for "care."
What Are the Different Types of Restraints?
When you think of physical restraints, your mind may go to images in movies of patients cuffed to hospital beds waiting for an officer to arrive on the scene. Or people strapped down to gurneys as they thrash wildly about. In fact, there are many different types of restraints that can be used in the medical field. Some examples of physical restraints include:
Hand mitts
Soft ties
Belts
Vests
Specialized chairs
Lap belts
Bedrails
Restraints can be legitimate medical devices for legitimate medical conditions and concerns. However, these devices are also at risk of being abused by negligent or abusive caregivers. Physical restraints may also be created from items in a residents' room, such as a belt, nylon stocking, or even a necktie.
Nursing Home Restraint Laws in Kentucky
There are certain statutes that dictate the use of restraints in nursing homes. At the federal level, there are laws that limit the use of restraints to specific circumstances. The Federal Nursing Home Reform Act from the Omnibus Budget Reconciliation Act of 1987 has been one of the landmark pieces of legislation that has helped to establish laws and regulations within the nursing home community.
These pieces of legislation are meant to help set safety standards for our elderly relatives and ensure the quality of life they deserve. Federal laws restrict the use of restraints in Medicare and Medicaid certified facilities. They may only be used in order to treat a resident's medical symptoms. They are also not allowed to be used without the consent of the resident or resident's attorney or legal representative. In cases where restraints are needed, a resident must be released from the restraints at least every two hours.
The biggest take away from the federal laws dealing with the use of restraints in nursing home settings is this, they are never to be used as a form of punishment. They are also never meant to be used as a means of convenience for staff and caregivers. While we'd like to think this should be common sense, it isn't.
That's why at Minner Vines Moncus Injury Lawyers, we are fully committed to helping you and your loved one hold negligent or abusive nursing homes and caregivers accountable for their actions. There is never an excuse for restraining another person for our own convenience or as a harmful punishment.
What Are the Risks Associated with Using Restraints?
The use of physical restraints, especially in the elderly, can be quite dangerous. There are a number of risks associated with using restraints on residents. According to research published in the National Center for Biotechnology Information, the use of physical restraints in nursing homes can lead to serious medical consequences, including:
Bruises
Ulcers
Difficulty breathing or respiratory complications
Incontinence
Constipation
Impaired muscle strength
Loss of balance
The study also found that residents are at a higher risk for death caused by strangulations or as a consequence of a serious injury like a fracture or head trauma.
Not only can the use of restraints cause serious physical complications, it has a significantly negative impact on an elderly person's mental health. A person on the receiving end of improper physical restraints may become depressed, anxious, and withdrawn. Even those who suffer from a condition such as dementia, where their mental capacity may be diminished, can suffer great mental stress when constantly restrained.
How Can Our Nursing Home Abuse Attorneys in Lexington Help?
At Minner Vines Moncus Injury Lawyers, we can't stand the thought of a cherished loved one being made to suffer, bound and restrained by someone with the title "caregiver." That is why we are so committed to helping family members like you get the justice they deserve. It is no secret that we have an aging population, and it is our duty to maintain safety and decency standards in Kentucky's nursing homes. That's why we must hold them accountable when they fail our most vulnerable members of our community.
Contact us today at (859) 550-2900 to speak with one of our experienced and compassionate nursing home abuse attorneys. We can review the facts surrounding your case and give you the legal advice you need during this emotionally trying time.