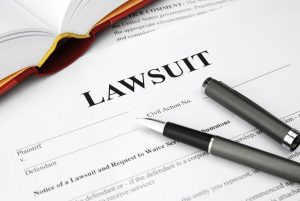 If you have searched for legal information, you have probably seen the terms "claim" and "lawsuit." Often, you will see these terms used synonymously. Although claims and lawsuits share some common features, they are different forms of legal action.
Claims and lawsuits are two separate ways that an injured party can seek compensation after an accident. If you have questions about whether to file a claim or a lawsuit, speak to an experienced Lexington injury attorney who can help guide you.
What is a Claim?
The first step that most people take after an injury is filing a claim with the at-fault party's insurance company. This is especially true for car accidents.
If you suffered injuries and financial losses after a car accident, you will have to file a claim with the at-fault driver's insurance company to recover compensation. Insurance claims are handled completely outside of court, most often as a negotiation.
The insurance company will often have an insurance adjuster, an attorney, or others that represent them throughout the claims process. The insurance adjuster will investigate your claim and decide what compensation to give you, if any. To win your claim, you will have to prove to the insurance company that the accident was not your fault and you deserve compensation.
Why You Should or Shouldn't File a Claim
The point of a claim is to avoid having to file a full-blown lawsuit in court.
This can be helpful in several ways, including:
Saving on fees and costs
Saving on attorney fees
Saving time
There are also reasons/situations where a lawsuit is more appropriate than an insurance claim, such as:
A lawsuit forces a timely response from the insurance company
When the insurance company gives you a low-ball offer
Having your case decided by a judge or jury
In some cases, a proper insurance claim is all you need to get what you deserve. In other cases, you will have to file a lawsuit to get your deserved compensation.
What is a Lawsuit?
If you file an insurance claim but receive an offer that will not cover your expenses, then you will likely need to file a lawsuit. Lawsuits are the court version of an insurance claim but much longer
You will need to prove that another party was at fault for your injuries to recover monetary damages in your lawsuit. You will also have to prove the extent of your damages, such as medical expenses, lost wages, and pain and suffering.
Filing a lawsuit puts the control and authority of a case with a judge and takes it away from insurance companies.
Why You Should or Shouldn't File a Lawsuit
It is normal to file a claim and then a lawsuit. Usually, an injured party files a lawsuit when claim negotiations break down and reach an impasse. But this approach might not always be effective.
There are several situations where a lawsuit should be filed instead of an auto insurance claim, they include:
Your recovery is based on the decision of a judge or jury, not an insurance company
Your compensation could be higher
You may be awarded punitive damages
There are also some situations where a claim should be filed instead of a lawsuit, including:
Your legal expenses may be higher in a lawsuit
Your final outcome is uncertain
Your case will process more slowly
You may find that the insurance company does not want to help you or compensate you for your injuries. After all, they don't make money by paying claims. If this happens to you, you will have to file a lawsuit to get what you need. It is important to speak to an experienced attorney before you decide whether to file a claim or a lawsuit.
How an Experienced Attorney Can Help You Decide What to Do
Don't fret if you don't have all the answers. You probably don't know exactly what to do to get compensation for your injuries after an accident. An experienced personal injury lawyer can help you decide your next steps.
A lawyer can also help you with:
Determining the overall value of your case
Professional negotiation tactics and knowledge
Preparing and presenting your case in the most effective way possible
An experienced attorney can help you obtain the necessary evidence and records for the strongest claim or case. If you have questions about your personal injury case, then give us a call so we can help!
Get Your Legal Questions Answered in a Free Consultation Today
If you have been hurt in an accident, then you may not know whether to file a claim or a lawsuit. Call Minner Vines Moncus Injury Lawyers or personal Injury law firm at (859) 550-2900 or contact us online for a free consultation to have your questions answered by an experienced legal professional.