Did you or a loved one recently sustain injuries in a bicycle accident in Kentucky? Bike accident injuries can be severe, and you may be entitled to compensation for medical bills, lost wages, and your pain and suffering. An experienced Kentucky bicycle accident lawyer at Minner Vines Moncus Injury Lawyers can fight to maximize your financial compensation.
Our lawyers have decades of experience representing injured clients across the Bluegrass State. We've already recovered millions of dollars in settlements and verdicts for accident victims statewide.
Our lawyers are ready to help you fight for justice. Call our Kentucky law firm at (859) 550-2900 to schedule a free consultation to get started today.
How Minner Vines Moncus Injury Lawyers Can Help After a Bicycle Accident in Kentucky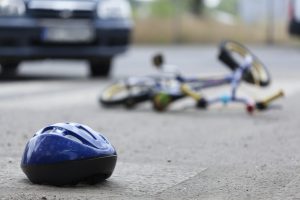 We buy insurance to protect us when we're hurt in an accident. That doesn't mean the insurance company is on your side. In fact, insurance companies will fight to pay less than full compensation for your injuries.
At Minner Vines Moncus Injury Lawyers, our personal injury attorneys are known for winning cases. Our lawyers have been recognized by the media and lawyer rating services like Super Lawyers, The National Trial Lawyers, and Martindale-Hubbell.
You can trust our AV-rated law firm to:
Conduct a detailed investigation into the accident
Locate and analyze the evidence you need to prove your case
Carefully assess the value of your personal injury claim
Hire leading experts and specialists
Stand up for you if the insurance company blames you for getting hurt
Handle all negotiations with the insurance companies
If you aren't satisfied with the insurance offer, our Kentucky personal injury attorneys won't hesitate to advocate for your rights in court. Don't wait to learn more about an attorney client relationship with a lawyer you can depend on. Call to schedule a free initial consultation today.
How Common Are Bicycle Accidents in Kentucky?
The popularity of cycling has increased dramatically in past years. Unfortunately, over the last decade, the number of bicycle accident fatalities has also increased by roughly 37%.
In 2019, 1,089 bike accident deaths were reported across the U.S. Over 308,800 bicycle accident injuries were reported that same year.
In Kentucky, there were 354 motor vehicle accidents that involved bicycles in 2020. Four people were killed, and 237 were injured.
What is My Kentucky Bicycle Accident Case Worth?
Personal injury lawyers hear this question every day. The honest answer is that we won't know how much your personal injury case is worth until we understand the facts.
The value of your claim will depend on unique factors, such as:
The type of injury you've sustained
The duration of your recovery period
The cost of medical care
The amount of income you lose during recovery
Whether you'll return to work in the same capacity once you've recovered
Your physical and mental suffering
Available insurance coverage
You can count on our lawyers to dig deep to assess your case value. We'll even work with experts who can estimate your future expenses and needs.
What Types of Damages Are Available to Bicycle Accident Victims?
As the accident victim, you may be entitled to compensatory damages. Those damages include both economic damages and non-economic damages.
Common examples of economic damages, or financial losses, including:
Past and future medical expenses
Lost wages and income
Diminished future earning capacity
Physical therapy
Property damage
Your non-economic damages, or non-monetary losses, may include:
Pain and suffering
Mental anguish
Diminished quality of life
Disfigurement
Scarring
Anxiety and depression
PTSD
Damage to personal relationships
Loss of consortium
As the victim, you're responsible for proving the types of damages you've sustained. Insurance companies will want to see specific proof about your losses. Our lawyers can help you fight for every penny you deserve. When you're ready to learn more, contact our team to learn more.
Can I Recover Damages If I'm Being Blamed for a Bicycle Accident in Kentucky?
After you file a claim for compensation, the responsible party might try to blame you for causing the accident. The reason is simple: insurance companies can pay less if they can pin even a portion of the blame on the victim.
Kentucky is a pure comparative negligence state. Liability for an accident is divided between everyone involved. If you're found to be 30% "at fault" for the accident, your settlement or verdict will be reduced by 30%.
Is contributory fault an issue in your case? You don't have to accept the insurance company's claims. Our lawyers in Kentucky can help you fight back. All you have to do is call for a free case evaluation today.
We'll Fight to Recover Compensation for All of Your Bicycle Accident Injuries
When a bicyclist is hit by a car, the resulting injuries can be catastrophic. At best, bicyclists have only a helmet to protect them in a crash. While the helmet can reduce the risk of brain damage, bike riders tend to suffer the most severe injuries in an accident–especially if higher speeds are involved.
At Minner Vines Moncus Injury Lawyers, we often represent bike accident victims who have sustained:
Multiple broken bones
Spinal cord damage
Traumatic brain injuries
Degloving injuries
Burns and road rash
Nerve damage
Neck injuries
Dental and facial injuries
Soft tissue injuries, including torn ligaments and tendons
Concussions
Crushing injuries
Back injuries
Organ damage
Amputations and loss of limbs
Paralysis
Catastrophic injuries
Wrongful death of a loved one
A bicycle accident can cause life-altering damage. If you were injured, get the legal advice you deserve by calling for a free case review with a respected Kentucky bicycle accident attorney today.
What Causes Most Bicycle Accidents in Kentucky?
Cyclists are entitled to share the roads with drivers in the state of Kentucky. Unfortunately, many motorists fail to watch for bicyclists and pedestrians. Often, riders don't have access to safe bike lanes and infrastructure that could prevent car accidents and injuries.
According to Kentucky police reports, some of the most common causes of bike accidents in Kentucky include:
Distracted driving and driver inattention
Traffic violations
Failure to yield the right-of-way
Speeding and aggressive driving
Unsafe passing and dangerous lane changes
Failure to pay attention and check blind spots when backing up
Failure to maintain control of the vehicle
Failure to properly judge distances
Illegal or unsafe turns
Weaving in traffic
Drunk driving or driving under the influence of drugs
Of course, many things can contribute to the cause of a bicycle accident. Dangerous road conditions and even defective vehicles might play a role in the crash. Poor weather conditions can reduce visibility and make speeding accidents even more dangerous.
It's important to identify every factor that contributed to your crash. More than one party may be responsible for damages.
Would you like an experienced attorney to help you find out what happened? Call our Kentucky personal injury law firm to schedule a free case review today.
How Do I Prove Negligence After a Bicycle Accident in Kentucky?
Most bicycle accident claims are based on a legal theory called negligence. Negligence is a failure to exercise reasonable caution under the circumstances.
More specifically, you'll have to establish:
The responsible party owed you a legal duty of care
Some type of violation, or breach, of the duty of care
Causation, or the breach caused the accident
Damages, or the harm you suffered because of the accident and injuries
The police report might contain information about who was responsible for the accident. The police may have even issued a ticket to the at-fault party. Still, the insurance company might challenge your claim.
Our lawyers will gather the evidence to prove your case, including:
Accident reports
Video surveillance footage
Eyewitness statements
Photos of the accident scene
Medical records and testimony from medical experts
Results of drug and alcohol testing
Cell phone records
And more
Multiple parties can share fault for an accident. Our lawyers will fight to hold all responsible parties accountable. Just give us a quick call to learn more about your legal rights.
How Long Do I Have to File a Lawsuit After a Bicycle Accident in Kentucky?
Every state limits the amount of time accident victims have to take legal action after an accident. In Kentucky, the statute of limitations is particularly short. Because of that, we highly recommend that you speak with an experienced lawyer quickly after your accident.
Under Kentucky law, victims have only one year to file a personal injury lawsuit if they're hurt in an accident. After the one-year anniversary of the accident passes, you lose your right to sue for damages.
Contact a Kentucky Bicycle Accident Lawyer for a Free Consultation
Bike accident victims often struggle for weeks or months after an accident. Some injuries may be permanent. If you were injured while riding a bicycle, call Minner Vines Moncus Injury Lawyers to schedule a free consultation with a Kentucky bicycle accident lawyer today.