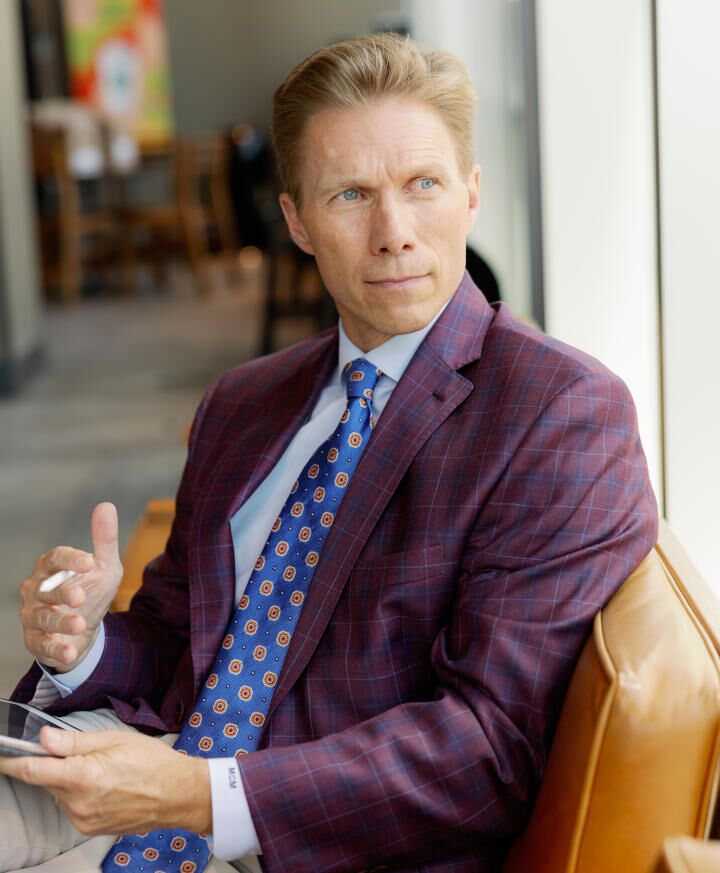 Have you been hurt in a motorcycle accident in Kentucky? The attorneys of Minner Vines Moncus Injury Lawyers have the experience you need on your side to get the compensation you are owed.
When a motorcycle rider or a passenger is involved in an accident, the results can be severe. Impacts may happen directly to the rider, or they may be thrown from the vehicle. Motorcycles lack the protection of a car and even the best helmet and safety gear may be no match for the force of impact. If you've been injured in a motorcycle accident, get the help you need. Contact the attorneys at Minner Vines Moncus Injury Lawyers for a free consultation.
At Minner Vines Moncus Injury Lawyers our attorneys are proud to help motorcycle riders and their families recover from accidents. For decades, we've been helping our clients fight and win. We specialize in helping accident victims and our work has been recognized by The Best Lawyers in America®, Super Lawyers® Magazine, the American Board of Trial Advocates, and many other organizations. When you're involved in a motorcycle accident, we can help you get the compensation you deserve.
If you, or someone you love, has been injured in a motorcycle accident, the experienced Kentucky attorneys at Minner Vines Moncus Injury Lawyers are here to help. Call(859) 550-2900 or fill out our contact form today.
Why You Need a Motorcycle Accident Attorney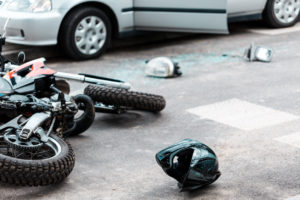 Motorcycle accidents can result in serious injury and recovery can be complicated. Insurance companies, local authorities, and the at-fault parties will all have their own agendas that you'll need to deal with. Mountains of paperwork and medical bills can pile up, and if there are any questions about the accident, they'll need to be answered before you can get compensation. It can be exhausting to deal with a motorcycle accident case at the best of times. When you're injured, it can be even worse.
A personal injury attorney in Kentucky will take care of the paperwork, represent you in any negotiations, and advocate for your interests every step of the way. If your case needs to go to court, an attorney can take care of the filings and legal strategies that you need to succeed. When you're injured, use your time and energy to heal. Let the attorneys at Minner Vines Moncus Injury Lawyers handle the rest.
We offer a free consultation about your case. If you've been injured in Kentucky contact us at (859) 550 2900 today.
How Minner Vines Moncus Injury Lawyers Can Help You
Motorcycle accidents are stressful, confusing, and can leave you physically and mentally harmed. At Minner Vines Moncus Injury Lawyers we understand the challenges that motorcycle accident victims face and we know how to stand up for you. We've handled motorcycle accidents across the nation, and we have the knowledge and expertise to help your case succeed. Our firm can help at every stage of your case including:
If you have questions about how the accident occurred, or what caused it, you'll need an attorney who can give you answers. Our attorneys will work with local investigators and authorities to determine what happened and who is at fault. We'll review accident reports, examine medical records, and build a clear picture of what happened. It's complicated and detailed work that needs to be done right. With decades of experience, our attorneys will get the job done.
Submitting a claim. Insurers don't want to pay claims, it costs them money. They often make the process confusing and time-consuming so that you'll give up or settle for less than you deserve. Our attorneys know how to work with insurers and build the claim you need.
Negotiations for a motorcycle accident are built on details and experience. We'll build the strongest case possible before heading into negotiations. During negotiations, insurance companies may try to settle for less than you need. We'll advocate for you and pursue the maximum amount of compensation for your injuries.
Motorcycle accidents are often settled, but if they need to go to trial, we have the legal expertise you need. We'll work with you to craft a strategy, prepare any filings and evidence, and handle your case in court.
Steps to Take After an Accident
After a motorcycle accident, your immediate steps should be to call 911, move your motorcycle to a safe location if possible, take photos of the scene of the accident, exchange insurance and contact information with everyone involved in the accident, and seek medical attention right away.
It's always a good idea to seek medical care immediately after an accident, even if you're not sure you really need it. Motorcycle accident victims often experience huge rushes of adrenaline that can physiologically prevent them from feeling pain. This means that even motorcycle accident victims who suffer severe injuries, such as fractures and lacerations, may not begin to feel pain for several hours. Furthermore, some injuries often caused by motorcycle accidents, especially traumatic brain injuries, may not immediately present symptoms. If left unchecked, traumatic brain injuries can become serious, even fatal.
In addition to preserving your health, prompt medical attention is important to the success of your legal claim. If you delay care, the insurance company of the at-fault driver may try to argue that you aggravated your injuries, and they should not be responsible for paying for all of your medical bills. They may also argue that your injuries can't be as bad as you claim, or that it can't be conclusively determined that your injuries even resulted from the accident. The insurance company may try to cite one of these reasons as justification to reduce or deny your claim. It's also important to carefully follow all of your doctor's instructions, such as attending follow-up appointments, taking prescription medications, and seeing specialists.
Motorcycle Accident Cases We Handle
Motorcycle accidents can result in serious injuries. At Minner Vines Moncus Injury Lawyers, we've handled every type of motorcycle accident and we know what goes into building your case. If you've been injured, we have the skill and experience to help you recover.
We have handled the following types of motorcycle accidents and many others:
Failure to yield to motorcyclists. Automobile drivers may not be paying attention as closely as they should. It's all too common for motorcycle riders to be injured when someone else doesn't yield.
Distracted driving. More and more Americans are driving while distracted. When you're injured by someone else's distracted driving, we can help.
Driving under the influence of drugs and alcohol. When drugs and alcohol are mixed with vehicles, the results are often deadly. If you've been injured by an impaired driver, we can help you recover.
Rear end collisions. When automobiles rear-end each other, it's easy for injury to occur. When a motorcycle is rear-ended, an injury is almost guaranteed.
Reckless driving. Reckless drivers can easily injure or kill motorcycle riders. If you've been injured by a reckless driver, we'll work with authorities and investigators to get the justice and compensation you deserve.
Defective design or manufacture of parts. When a motorcycle part fails, injury and accident often follow. We'll investigate what happened and pursue compensation from those responsible.
Roadway conditions. Motorcycles are more susceptible to roadway conditions than other vehicles. Perhaps construction was not marked, or perhaps debris from a truck caused unsafe conditions. We'll investigate your claim and recover from those responsible.
Wrongful death. Motorcycles don't offer their riders much protection, and when an accident occurs, it could prove to be fatal. If you've lost a loved one in a motorcycle accident, we can help.
If you've been injured in a motorcycle accident, our attorneys can help you.
Common Injuries Caused By Motorcycle Accidents
Because motorcycles lack many of the protective features of passenger vehicles, such as seat belts, airbags, and steel frames, motorcyclists often sustain severe injuries in motorcycle accidents. The following includes some of the most common injuries sustained in motorcycle accidents:
Road rash: Road rash is much more severe than the name might imply. Road rash occurs when a motorcycle rider slides across the pavement after being tossed from the motorcycle. The force and speed with which the skin meets the pavement can cause multiple layers of skin to be damaged. This can result in permanent nerve and tissue damage, chronic pain, and disfigurement. Protective gear such as leather riding clothes can help prevent road rash, but even the toughest leather can be torn when a rider is ejected off a motorcycle.
Traumatic brain injuries (TBI): A TBI is a serious injury caused by a violent blow to the head that results in brain dysfunction. Symptoms can include confusion, blurry vision, difficulty concentrating, and loss of consciousness. Sometimes, TBI symptoms do not immediately present themselves, which is why anyone involved in a motorcycle accident should seek medical attention as soon as possible. TBIs can lead to permanent disability, including loss of motor functions, permanent memory loss, and more.  According to a study conducted by the National Highway Traffic Safety Administration, out of 104,472 motorcyclists injured in accidents, 15% of helmeted riders and 21% of unhelmeted riders suffered a traumatic brain injury.
Spinal cord injuries: A spinal cord injury is damage to any part of the spinal cord or nerves at the end of the spinal column. These injuries often cause permanent loss of strength, sensation, and function. Spinal cord injuries can cause paralysis (paraplegia or quadriplegia).
Upper and lower extremities: Arms and legs are often particularly vulnerable to injury in motorcycle accidents. On instinct, humans protect themselves with their arms before falling, so injuries to the arms are common when riders are knocked off of motorcycles in an accident. Injuries to the feet, ankles, calves, knees, and thighs are also common. Injuries to extremities can sometimes cause permanent damage and loss of function.
Accident Claims Process
The car accident insurance claim process in Kentucky is a little bit different than in most states. Kentucky is one of about a dozen states that use some variation of no-fault insurance. In a traditional no-fault system, drivers who get into an accident are required to use their own car insurance policy to pay for their medical bills and other financial losses. This is regardless of who is at fault. Drivers are usually not allowed to make liability claims against the at-fault driver, although there are sometimes exceptions that apply.
Kentucky's system is called a "choice no-fault" system. Drivers can opt-out of the no-fault system when buying an insurance policy. This means that they remain able to make a liability claim or file a personal injury lawsuit against the at-fault driver, but it also means that they open themself up to the risk of being sued after an accident.
If a driver hasn't opted out of the no-fault system, they are required to have "personal injury protection" (PIP). PIP coverage pays for at least $10,000 of medical bills and other financial expenses related to the accident.
Your claim process will depend on the insurance status of all involved parties. An experienced motorcycle accident attorney will work closely with you to determine your most efficient and effective path to getting the compensation you need.
Filing the claim
Regardless of whether you and/or the at-fault driver have opted out of the no-fault insurance system, you will have to file a claim with an insurance company. It's important to understand that insurance companies often do anything possible to reduce or deny your claim. Insurance companies are highly motivated to protect their bottom line, and they'll fight tenaciously to avoid paying out claims whenever possible.
This means that all accident claims need to be submitted to insurance companies on time, free of error, and with all necessary supporting documents. Making a minor mistake or submitting your claim too late may result in a denied claim. Insurance companies have different rules about how long you have to submit a claim, but most require that you "promptly" provide notice that you will be submitting a claim. Depending on the insurance company, this can mean days or weeks.
The help of an experienced motorcycle accident attorney is crucial at this step. Your attorney will help you file your claim, ensuring that your claim is complete, error-free, and ready to go on time.
Dealing with adjusters
After you file an insurance claim, a representative from the insurance company (called an insurance adjuster) will evaluate your claim. The adjuster will investigate the details of the accident, check your coverage, and determine a settlement to compensate you for your damages.
Your attorney will handle communication with the insurance adjuster. We advise against communicating with or answering any questions from the insurance adjuster without your attorney present. The adjuster may ask questions in a confusing or misleading way to try to get you to say something incriminating. The adjuster may also ask you to sign legal documents, such as settlement offers or medical records releases. You should consult an attorney before you sign any legal documents presented by an insurance representative.
Reviewing settlement offers
After reviewing your claim and completing their investigation, the insurance adjuster will offer you a settlement to compensate you for your damages. It is not uncommon for the first settlement offer to be lower than what you are entitled to. An experienced motorcycle accident attorney will have the experience and knowledge to determine if the settlement offer is fair and will be able to negotiate with the insurance company if the settlement offer is insufficient.
We recommend always consulting an attorney before accepting a settlement offer. Insurance companies know that many claimants are under immense pressure to pay medical bills and may be willing to accept a low-ball settlement out of fear that they won't receive a better offer. Your attorney is there to advocate for you and ensure that you don't get taken advantage of by an adverse insurance company.
What to do if the insurance company denies your claim
It is fairly common for insurance companies to deny claims. If your claim gets denied, don't panic. An insurance company may simply deny a claim because they don't think you'll pursue legal action, so hiring an experienced motorcycle accident attorney will help. The following include some common reasons insurance companies cite when they deny claims:
You were violating the law at the time of the accident. Insurance coverage is almost always voided if the policyholder is injured while breaking the law. The insurance company may claim that you were distracted or texting at the time of the accident.
You weren't covered at the time of the accident. The insurance company may try to argue that your policy had expired or hadn't begun at the time of your accident.
You didn't report the accident to the police or your insurer in a reasonable amount of time.
You didn't seek medical attention promptly enough after your accident. The insurance company may argue that if you didn't seek immediate medical attention, you might be trying to get compensation for injuries that didn't result from the accident.
You provided false information when you originally purchased the insurance that the insurance adjuster discovered during their investigation. This may include information about your driving record, vehicle condition, and more.
If your claim is denied, you have the right to appeal. Your motorcycle accident attorney will work with you to ensure you make a compelling case in your appeal. If the insurance company continues to be unwilling to compensate you fairly, it may be necessary to take the insurance company to court.
What Types of Compensation Can I Pursue?
Determining the types of compensation you can pursue in Kentucky can be complicated due to the choice no-fault system in place. The compensation you can seek will depend on the type of insurance you have, the circumstances of the accident, and the extent of the injuries.
For example, typically, when you turn to your no-fault PIP insurance for coverage following your accident, you can seek compensation to cover medical expenses, a portion of your lost wages, and other similar out-of-pocket costs. You cannot, however, seek compensation for your pain and suffering or other types of non-economic compensation.
However, if you're injuries are deemed serious according to Kentucky law – if you suffered a compound fracture, permanent disfigurement, or a permanent disability, for example – or if your accident resulted in medical expenses of at least $1,000, you can pursue an injury claim or lawsuit against the at-fault party, even if you have no-fault insurance.
Following are the types of compensation you can pursue if your injuries are considered serious, or if you opted out of no-fault insurance altogether:
Past and future medical expenses
Damaged property, including motorcycle repair or replacement costs
Lost wages
Lost earning capacit
Pain and suffering
Mental anguish
Loss of quality of life
The Motorcycle Accident Attorneys at Minner Vines Moncus Injury Lawyers Will Fight for You
Motorcycle accidents are serious events with serious consequences. At Minner Vines Moncus Injury Lawyers, our Kentucky attorneys have served motorcycle accident victims across the nation with skill and integrity. We'll find out what happened and pursue the compensation you and your family need. No matter the type of accident you've faced, we're here for you.
For a free consultation, fill out our online form or contact us today.