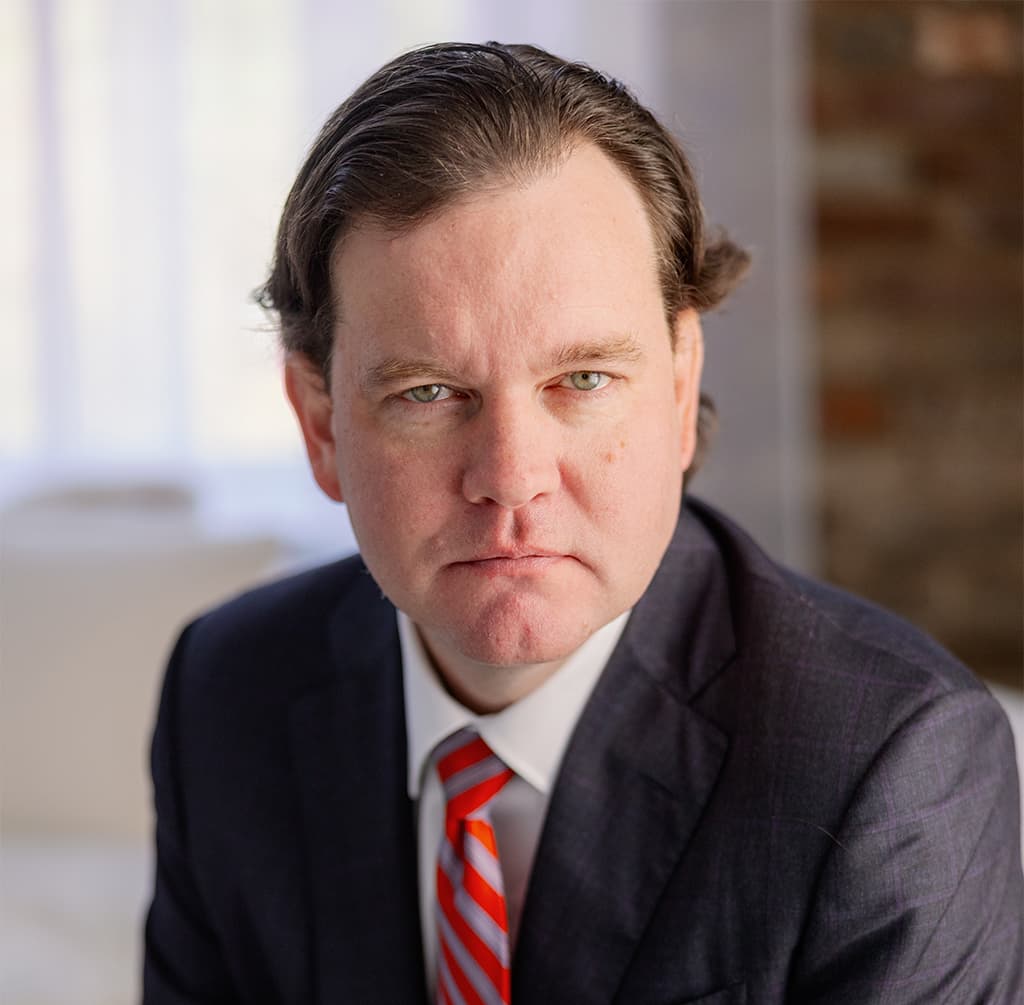 James R. Moncus III
Education
Auburn University
BA Philosophy and English 2000
Vanderbilt University School of Law
JD 2003
Awards
"Best Lawyer" by Best Lawyers in America® (2016-2021)
Mid-South Super Lawyers® (2011-2020)
AV Preeminent® Rated by Martindale-Hubbell® (since 2012)
The National Trial Lawyers, Top 100 Lawyers
American Association for Justice, Board of Governors (since 2012)
Multi-million Dollar Advocates Forum (since 2011)
About James
A founding partner of Minner Vines Moncus Injury Lawyers, Jamie says, for him, being a trial lawyer is all about maintaining the right perspective.
Jamie's career as a trial lawyer began nearly twenty years ago, fresh out of Vanderbilt Law School. "At the time, I had no clue what it meant to be a trial lawyer, but I knew I wanted to represent people, not corporations," Jamie recalls. "I didn't take any of those trial advocacy classes in law school—in part, I wasn't really interested in trials at the time, but it also felt fake, having to study made up facts and act it out in a mock courtroom, it just wasn't for me."
But, soon he realized that if he was going to champion the causes of the people, learning the ins and outs of the courtroom was not an option, it was mandatory. "I was naive I guess, I just figured that if you told the truth, if your client had a meritorious case, that the defense, the insurance companies, would do the right thing….well, it didn't take long for reality to set in." As Jamie started to take cases for clients he believed in, it became obvious that his idealistic notions of the legal system didn't match up with reality. He made a pact with himself and with his clients. "If the defense didn't make a fair offer, we just said 'no,' and we went to trial. It was scary in a way, especially at first, but I knew we were doing the right thing; it just felt right in every way and the clients trusted me—we had to trust each other." This journey allowed Jamie to develop a profound respect for the jury system, one of the hallmarks of our democracy and our judicial system. "Most folks simply don't appreciate how hard jurors work to hear and decide cases—and they almost always reach the right result, for the right reasons. The defense can say just about anything they want to in a trial, but you just have to trust that the jury will see through to the ultimate truth."
For Jamie, being a trial lawyer is more than a career, it is a calling. He has been recognized by the National Law Journal in its annual Top 100 Verdicts list a total of three times. One verdict made the prestigious Top 10 list in 2017. At last count, he has given lectures to fellow attorneys in over 46 states and he continues to share his knowledge and unique approach with lawyers around the country. His work has been written about in publications around the country. In 2021, he was featured on CNBC's program, American Greed. Jamie has also been featured on countless local media stations and national news broadcasts such as Good Morning America, Inside Edition, and ABC World News. His work on cases has been featured in countless national publications, such as The New York Times, The Washington Post, BBC Word News, CNN, USA Today, People Magazine, Fox News, and many others.
Outside of the office, Jamie enjoys a wide variety of outdoor activities, from backcountry hiking, running, kayaking, shooting sports, and working on his farm. As a former Eagle Scout, he trained intensely for and was able to summit the peak of Mount Rainer a few years ago on a snowy September dawn. He is a private pilot and flies aerobatics in his Extra 330 tailwheel monoplane, which helps maintain his focus and discipline. "Being a trial lawyer is not a causal endeavor for me. We've got our client's lives and future in our hands—every move has to be the right one, and they deserve and demand 100% of our focus on their cases. That's just the only way I know how to do it," Jamie says. 
Jamie's Track Record
---
$1.51 Billion –
Class action settlement
$310 million –
Class action settlement
$218 million –
Class action verdict
$115 million –
Personal injury judgment
$42.5 million –
Fraud settlement
$40.25 million –
Drunk driving verdict
$37.5 million –
Dram shop, liquor liability verdict
$28 million –
Fraud settlement
$14.1 million –
Single wrongful death settlement
$14 million –
Medical malpractice settlement
$11 million –
Tractor-trailer collision settlement
$10 million –
Commercial vehicle collision settlement
$4.75 million-
Brain damage judgment
$4 million –
Medical malpractice verdict
$3.7 million –
Car crash resulting in unborn baby's death