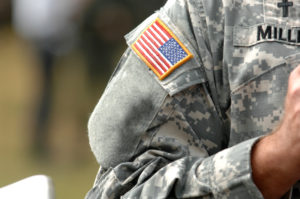 The standard issued earplugs given to U.S. military personnel in foreign conflicts between 2003 and 2015 were the Duel-Ended Combat Arms Earplugs, Version 2, created by the Minnesota-based company called 3M.
In July of 2018, a whistleblower alleged that the company, 3M, violated the False Claims Act by selling defective earplugs to the U.S. Defense Logistics Agency for active military use. This whistleblower, who had initially filed the claim in 2016, was later identified as the company Moldex-Metric, Inc.
While attempting to develop their own earplugs, Moldex discovered that 3M had falsified their data and test results.
As a result of this lawsuit, 3M was required to pay a $9.1 million settlement for selling defective combat earplugs to the Defense Logistics Agency.
Now, 3M is facing hundreds of lawsuit claims from U.S. veterans for the defective design of their Dual-Ended Combat Arms Earplugs Version 2 (CAEV2). The flaws in design caused the earplugs to be ineffective and led to hearing issues in millions of veterans and active duty military personnel.
If you or a loved one have suffered hearing damage or loss, and served in combat overseas between 2003-2015, contact the committed team of Minner Vines Moncus Injury Lawyers today to learn more about filing a claim against the negligent party that caused you harm.
Give us a call right now at(859) 550-2900 or contact us online for a FREE case evaluation.
A Flawed Product
The Dual-Ended Combat Arms Earplugs Version 2 (CAEV2) were crafted to meet the demands of the U.S. military. With a dual-end function and reversible technology, each side of the 3M combat earplugs was meant to serve a unique function.
The green side, also known as the Weapons Fire Mode, could move sound through a filter while selectively restricting high-level noises, such as the firing of a weapon. At the same time, it could permit lower-level sounds to pass. It was supposed that military personnel could communicate while being protected from more intense sounds when using this end of the earplug.
The yellow side, or Constant Protection Mode, restricted all noises, including constant sounds made by hovering aircraft or running vehicles.
3M marketed their product to the U.S. Defense Logistics Agency, making sure to point out that this unique technology was exactly the type of protection that military personnel needed.
Unfortunately, a flaw in design meant that the stems of the earplugs were too short to fit deep enough in the user's ear. Over time, the earplugs could loosen without the soldier being aware. When you consider the dangerous situations military veterans are in and how much movement is associated with combat, it isn't very surprising that they would not feel the earplugs coming loose.
This design flaw would ultimately allow for dangerous levels of sound and noise to enter the ear canal by traveling around the outside of the earplug. Because of a lack of adequate hearing protection, veterans are now suffering from severe hearing loss and other related issues.
Contact the product liability lawyers in Kentucky at Minner Vines Moncus Injury Lawyers right now at (859) 550-2900 if you are suffering from hearing damages as a result of using 3M defective combat earplugs.
Military Noise Exposure
U.S. military personnel are exposed to very loud sounds with levels reaching anywhere from 103 to 184 decibels at times. Furthermore, these sound levels can go on for long durations.
Even "low-level sounds," according to military standards, can be harmful to humans. Effective hearing protection is a must to prevent harm induced by loud sounds. It is likely that damages will occur if no, or ineffective, sound protection is used.
This is what the CAEV2 earplugs promised to do, claiming to effectively block sounds as high as 190 decibels when inserted properly. The earplugs were meant to protect U.S. soldiers from noises caused by:
Gunfire
Heavy equipment
Jet engines
Machinery
Blasts
Roadside bombs
Training
Battlefield experiences
Unfortunately, 3M's flawed design of their dual-ended combat earplugs has resulted in hearing issues for many military personnel. It is estimated that over 1.5 million soldiers could be affected as a result of these defective military earplugs.
As a member of the armed forces, you sacrificed much for your country. Now you deserve somebody to fight for you. If you were a service member in an active war zone between 2003 to 2015 and have suffered severe hearing loss as a result of defective 3M combat earplugs, contact the Kentucky defective product attorneys of Minner Vines Moncus Injury Lawyers today at (859) 550-2900 for a FREE case evaluation.
Signs of Hearing Loss & How Soldiers Have Been Affected [2022 Update]
The Centers for Disease Control and Prevention (CDC) claim that veterans are "30% more likely to have Severe Hearing Impairment (SHI) than nonveterans." Even more shockingly, veterans who served in the United States or overseas after 2001 are four times more likely than nonveterans to have an SHI.
As per the Veterans Administration (VA) Benefits Report, hearing-related issues are the most common service-connected disability. The statistics are as follows:
1,343,013 veterans were affected by hearing loss

2,327,387 veterans suffering from tinnitus
The VA reported 61,158 new claims of hearing loss and 149,368 cases of tinnitus in the year 2020. Ineffective hearing protection is a likely contributor to these issues.
If you believe you are suffering from hearing loss, there are a few signs and symptoms that you will want to take note of, including:
Hearing others with muffled speech.
Constant ringing, buzzing, or low hissing in the ears.
Difficulty hearing specific words over background noise.
Difficult hearing consonants.
Sensitivity to sound.
Unfortunately, hearing loss is only the tip of the iceberg for many veterans. There are plenty of serious consequences that come damaged hearing, including:
Issues with socializing.
Social isolation can negatively affect veterans who are already dealing with post-traumatic stress disorder.
Problems pursuing higher education and other forms of training.
Fewer job opportunities.
A lack of job prospects can lead to financial and mental health issues.
Psychological and emotional trauma.
Physical issues from stress associated with hearing loss.
A lowered quality of life.
If you or a loved one served in the U.S. Military between 2003-2015, and experienced hearing loss or damage, contact the Kentucky 3M earplug lawsuit attorneys of Minner Vines Moncus Injury Lawyers to learn what your legal options are.
The Basics of Product Liability
Product liability is an area of law that governs who is liable when a defective product injures or causes some form of harm to an individual. If you have suffered injuries as a result of 3M combat earplugs, you may be able to file a product liability claim against the party responsible for the defective earplugs.
There are three factors that can fall under product liability, including:
Design defects: When a product is defective because of its design, and not as a result a manufacturing error, it is a design defect. In the case of 3M combat earplugs, the issue is a design defect that was known very early on by the company.
Manufacturing defects: A manufacturing defect occurs during the manufacturing process. This can make a product unnecessarily dangerous.
Failure to warn: In these instances, the manufacturer or liable party does not provide the user with enough information on how to use safely use the product or purposely misstates the product's benefits. 3M failed to warn the government and military personnel about issues with the combat earplugs.
Various parties in the chain of distribution may be held responsible for the defective nature of the product, including:
The manufacturer of the product.
A manufacturer who develops certain components of the product.
The party that assembles or installs the product in question.
The Kentucky product liability attorneys at Minner Vines Moncus Injury Lawyers will help you to uncover who exactly is responsible and liable for the damages you have suffered.
Contact us today at (859) 550-2900 for a FREE case evaluation and to learn more about your legal options.
How the Kentucky Attorneys of Minner Vines Moncus Injury Lawyers Can Help You
The Kentucky litigation attorneys of Minner Vines Moncus Injury Lawyers are now working to build cases for those injured by defective CAEV2 earplugs. In April 2019, the U.S. Judicial Panel on the Multidistrict Litigation (MDL) consolidated 640 earplug lawsuits against 3M.
At this point, only the whistleblower lawsuit has reached a settlement, and other lawsuits are still in the early stages. However, the large settlement of the whistleblower case is indicative of fault on behalf of the 3M company, thus it will be harder for the company to deny knowledge of their product's faulty design.
In a CAEV2 3M lawsuit, there is no standard amount of financial recovery that can be awarded, but specific damages can be accounted for. These damages may include but are not limited to:
Medical expenses
Hearing aids
Loss of income
Loss of enjoyment of life
Pain and suffering
Emotional and mental trauma
As in any field of law, evidence is going to be essential to proving your claim. The experienced and committed Kentucky attorneys of Minner Vines Moncus Injury Lawyers will get to work immediately helping to secure the following forms of importance evidence:
Medical records
Medical bills
Pay stubs and tax returns
Insurance policies
Physical evidence
Other important documents
Members of the U.S. military face many dangers and put their life on the line in combat. Hearing loss by high sound level exposure is one of the most preventable injuries from the battlefield, yet this is the number one disability that veterans experience.
If you or a loved one have been affected by the negligence of the company, 3M, and are now suffering from hearing loss or other hearing-related damages, contact the experienced Kentucky attorneys of Minner Vines Moncus Injury Lawyers immediately.
You are not alone in your fight against this negligent corporation. Trust in our ability to deliver the results and justice you deserve. Contact us today at (859) 550-2900 for a FREE case evaluation.